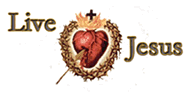 The new year has brought some sad moments as we bade farewell to several long-time friends and benefactors - Fr. William Gorman, Beverly Schubert, Joanne Schulz, Jane Palmer, Tom P. Ollinger, Helen Robinson, Anthony Vitale, all loved by a wide circle of family and friends for their genuine goodness and affection.
Recently we were approached by a representative of "Women Making a Difference", a civic group which is interested in improving neighborhoods. Currently, the women are heading an effort to restore Three Mile Creek to a recreational area suitable for canoeing and kayaking, with trails for walking and bicycling. The creek is just north of our property and once was a source of water for the academy and monastery. We are pleased to support this development and welcomed the group on February 10th for a planning meeting in our dining room.
Our next event will be the Ash Wednesday Day of Prayer, led by our pastor, Msgr. James Kee. It begins with registration at 9:00 A.M., and includes the recitation of the rosary, a conference, a simple Lenten lunch, Stations of the Cross, Confession and the chaplet of the Divine Mercy.
On March 13 - 15, 2015, Fr. Eugene Pathe, a popular preacher from the Pensacola diocese, will conduct a retreat for women. Registration will be from 3:00 P.M.; supper will be at 6:00. The schedule includes Mass each day, conferences, Confession, and other devotions typical of group retreats. It concludes with the noon meal on Sunday.
Getting ready for the next postulant.
Novitiate sisters painting and cleaning rooms.
Fr. Nicholas King, S.J., of the British province of Jesuits, came from Boston to conduct a retreat for men on February 20 - 22. It was an inspiring experience of Ignatian spirituality which provided the men with a solid foundation for a grace-filled Lent.
On March 7th and 8th Fr. John Licari led a group of eighty-five women from the Pensacola diocese in a spirit-filled reflection on the life of Mary. The talks were drawn from scriptural accounts, enhanced by Father's personal reading, prayer and musical compositions. "It seemed as though we were really there in the events", was a typical comment from the women who attended.
A week later, Fr. Pathe's conferences were deeply moving for the women who were here for that retreat. They appreciated the many rich insights he opened up for them through his engaging explanations of the scriptures. Again, a frequent comment was, "It felt like we were really there."
The week of March 23 - 28 is reserved for a group of ten stalwart men who are driving from St. John the Baptist Parish in Glandorf, Ohio, to offer their skills in construction work to help accomplish some urgent work for the Catholic Social Services. They will be working on site all day, but will begin and end their days in Mobile here at the monastery. It is an inspiration to see the enthusiasm they have for serving the poor - a generous response to Pope Francis' recommendation to spread the Gospel of Joy.
Later in the week, on March 27, the Archdiocesan staff will gather for a day of reflection with Archbishop Rodi, and the following day, the Daughters of St. Francis de Sales will meet for Mass and conferences with Fr. Stephen Hellman, their spiritual director.
On March 21, 2015, a faithful group assembled in front of the monastery at noon to participate in a national rosary rally in support of traditional marriage and family values.
Sister Mary enjoyed a visit from members of her class at St. Mary's Day care.
The members of the prayer shawl ministry in St. Patrick's Parish in Mt. Dora, Florida, generously ministered to us, praying for us as they lovingly crafted these one-of a kind- shawls and lap robes, which are being put to use even in these summer days, and will become more evident as the cold weather moves in -
Sr. Ana and Sr. Alicia, two Minim Sisters of Charity, came from Cullman for a few days retreat and shared with us some information about their small community. Sr. Mary Helena, also on retreat, enjoys the exchange of ideas.
The novitiate makes the most of their recreation days -
Sr. June became Sr. Mary Louis as she made her temporary profession on August 12th, feast of our Holy Mother, Sr. Jane de Chantal.
Sr. Jane de Chantal
Our chaplain Fr. Patrick Madden was celebrant of the Rite of Profession. He gave Sr. June her new name Sr. Mary Louis.
Sr. Ana received the postulant's veil on June 12th and Sr. Gail became a postulant on August 25th.
Sr. Margaret Mary, Sr. Gail and Sr. Mary Anthony
Novitiate
We were surprised and jubilant to receive a new statue of St. Joseph for our cemetery. Found in an internet search by the diligent workers at the Gift Shop, it was put in place by Sammy Wilder and a crew of construction men who promptly and graciously volunteered their time, equipment, and strength.
During the Forty Days for Life and the synod on the family in October, people assembled in front of the monastery to pray the rosary in support of the Church's teaching on marriage and family life.
The rosary in the photo came from the Basilica of St. Anne in Quebec and was donated by a friend of Ann Thumblin, the case was made by Louis Seiter on left, Ann, Mother Rose Marie and Lee Eilers.
The Saga of the Ring
Once upon a time in the days of the academy, one of the pupils received a ruby ring from her grandmother on Christmas Eve. Sadly, her beloved grandmother died the next day, which made her treasured gift even more precious. After the Christmas holidays the little girl returned to school and was showing her ring to her classmates while they were gathered on the outside pavement surrounding the courtyard. Suddenly the ring flew out of her hand over the parapet and into the grass in the courtyard. Horrified, her first though was, "I'm in BIG trouble", for the students were forbidden to sit or stand on the parapet and were never allowed to walk on the grass of the courtyard. What to do? If she asked a sister for help retrieving her ring, she would have to admit that she had been sitting on the parapet, and if she went into the courtyard to pick up the ring herself, she would be committing another, more deliberate, act of disobedience - and she just might caught. Agonizing over her choices, she decided to say nothing and prayed someone would find the ring and turn it in to the principal, who would inquire if anyone had lost a ring. She could then claim it without having to explain how she lost it. Alas, no one mentioned finding a ring, and the longer she remained silent the more difficult it was for her to make inquiries.
More than seventy years later, the former student came to the monastery with her son who was carrying some metal detection equipment. They asked to be permitted to search in the area where the ring had fallen to the ground, despite the long lapse of time. After nearly an hour of meticulous but unsuccessful searching, they asked if they could return another time to resume their efforts with a professional searcher who had more sensitive equipment. This proposal met with the approval of the superior, but no date was set.
Several weeks later the superior was in her office, preparing to make a phone call. Finding the phone in use, she was waiting patiently for the line to be free when a thought came to her to look for the ring in the secretary in her office. At first she dismissed this as being too improbable to pursue. But the thought kept recurring, so finally she opened the cover of the antique escritoire and her eye fell on several small drawers inside. She opened one and found some little boxes inside. Obviously they had been here a long time. The first one she opened surprisingly contained a miniature ring, gold with red stones; not a single ruby, but nonetheless red.
Not daring to conclude that this was the long-sought ring, she called the former student and told her of her discovery. Beside herself with excitement the good lady told her that the reason she was so diligent in seeking the ring was that she had hoped to give it to her granddaughter - and that very day was the girl's birthday! Within an hour she was at the monastery examining the ring. Although it was not quite the same as she remembered from her childhood, it WAS a child's ring, had red stones, had been turned in to the superior at some time in past years, and had been waiting a long time to be claimed. Considering the chain of events that led to its discovery and the several points of similarity between the rings, she was willing to accept this as her long lost keepsake and to pass it on to her granddaughter, whether or not it was indeed a family heirloom.
Outdoor Stations
During Lent Fr. Pat Madden, who was our chaplain at the time, came inside the enclosure to bless our beautiful new outdoor stations. The gift of a generous and thoughtful benefactor, they had been affixed to the wall of our cloister walk, which provides shelter from inclement weather in a peaceful outdoor setting.
Golden Jubilee
Just a week after Divine Mercy Sunday, Sr. Margaret Mary celebrated her Golden Jubilee of religious profession. The glorious Mass with Archbishop Rodi and several priests and deacons was attended by her numerous family and friends who traveled from all parts of the country to be part of this event.
Rev. Stephen Martin delivered a magnificent homily which perfectly conveyed the significance of our religious vocation, and Jeehae Helen Lee played the organ for hymns chosen for the occasion.
Afterward, there was a joyous reception and dinner prepared and served by members of the Mobile Cursillo. This gathering of family and friends also allowed opportunity for visiting with those who had come from a distance, thus prolonging the festive spirit for several days.
| | |
| --- | --- |
| | |
| | |
| | |
| | |
| | |
| | |
| | |
| | |
| | |
Golden Jubilee
Sister Mary Gabrielle Thomas observed fifty years of religious consecration on May 14, 2017. The Jubilee Mass was offered the day before the feast of Our Lady of Fatima by Archbishop Thomas J. Rodi, at the Visitation Monastery. The sisters, their families and friends joined in the celebration, including a reception and festive dinner prepared by benefactors.
Sr. Mary Gabrielle entered the community on July 16, 1964, received the habit on May 2, 1965, and made her first vows on May 14, 1967.
Born Betty Louise Thomas on January 14, 1944, to a Catholic mother and a non-Catholic father, she and her sister and brothers were military brats who traveled the world. At 17, Sister began educating herself in the Catholic faith by reading her cousins' Catholic school text books. At 19, she sought out a priest to receive her First Communion. She attributes her faith to her grandmother, a staunch Catholic, and her mother, who always prayed the Rosary.
At 20, Sr. Gabrielle made the decision to become a religious, choosing the Mobile Visitation because of the "warmth of the response" to her request for information. "I entered because I believed this was the life God wanted me to follow. It was like a fire deep within me. This desire brought me peace of heart. I wanted to pray for souls, especially those of my own family". Her prayers bore fruit in the conversion of her father at the age of 92.
When Sister joined the community of 40 sisters, she became one of 6 extern sisters, occupied with the exterior duties in the monastery. Now she spends most of her time within the cloister and describes her 50 years with one word: contentment. "When I entered, I had the best of both worlds, interacting with outside people and retreating to the quiet and peace of the monastery. I know I have done God's will for 50 golden years. I love my Visitation vocation and all the sisters who share it with me. We all try to live a life of fidelity. Each of us is her own person – all seeking our dear Lord. If you feel the call to a contemplative vocation, I encourage you to come and find out for sure. You may very well have a vocation: Jesus is full of surprises!"
Aaron Francis Martin Zanca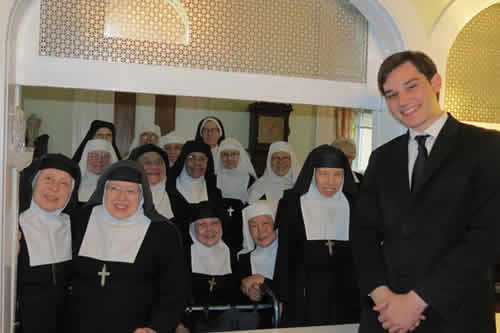 The sisters had a visit with Fr. Perez and his friend Aaron Francis Martin Zanca who will be leaving for Spain. He will be studying in the seminary as a candidate for ordination for the Diocese of Seville.
Our Lady of Fatima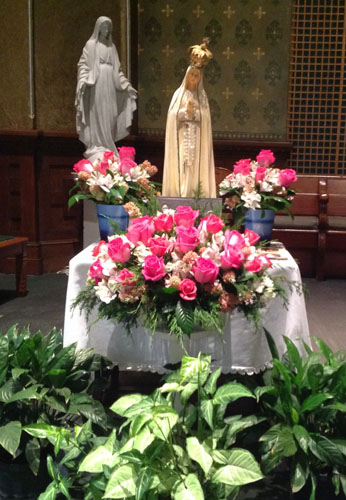 Our Lady of Fatima - One Hundred Years Later. On October 13th we joined in celebrating the centenary of the apparitions of Our Blessed Mother of Fatima, Portugal, as our archbishop requested of the entire archdiocese. We had been devoting our attention to this celebration during the year by setting up a statue of Our Lady of Fatima in our community room, with a photograph of the three children and information about the indulgence offered during the year. For those unable to make a pilgrimage to Fatima or to participate in public commemoration of this event, it is acceptable to pray before a statue of Our Lady of Fatima on the 13th of each month instead. On October 13th we began the day with a special Office for the day and with a Mass in honor of Our Lady of Fatima attended by members of our parish. This was followed by solemn exposition of the Blessed Sacrament, which continued until 3:00 pm, when there was a solemn Benediction and Reposition of the Blessed Sacrament. At noon we were able to participate via television in the centenary Mass at Fatima, and that evening we watched part of the candlelight procession, devotions, sermon, and consecration of the United States to the Immaculate Heart of Mary by Cardinal Weurl of Washington, D.C. Our pastor, Msgr. James Kee, presided at the liturgical celebrations in our chapel and assisted with the planning of this joyful remembrance of the day that the sun danced and Mary asked the world to pray the rosary for peace.
Divine Mercy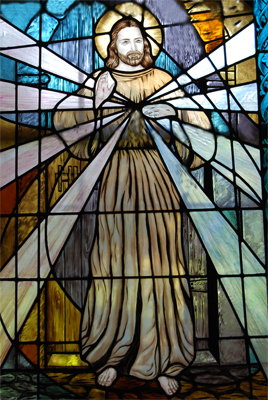 The Sunday after Easter was a glorious spring day, perfect for the festive observance of Divine Mercy. More than four hundred people gathered in our retreat yard to take advantage of the opportunity to receive the Sacrament of Reconciliation, to participate in the Eucharistic procession and Divine Mercy chaplet, and to venerate the first-class relics of St. John Paul II and Saint Faustina displayed by Fr. Marcin Dudziak, who was the presider for this year's celebration.
Fr. Dudziak is pastor of Our Lady of Lourdes Parish and is a native of Poland, homeland of the saints most closely associated with the Divine Mercy devotion. Nine local priests were available to hear confessions prior to the Mass. Trey Krause, campus minister at McGill-Tollen High School, provided musical support for the program, and Rob Herbst, the editor of the Catholic Week, took a variety of photos, which can be viewed at face book.com/The Catholic Week.
Sr. Mary Joseph - First Vows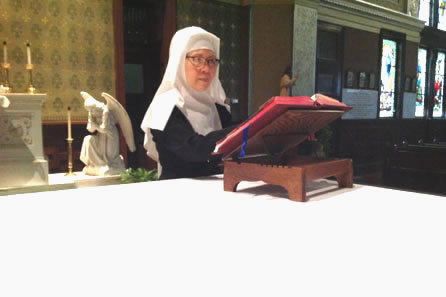 Our newly professed sister prepares the altar for Mass, one of her duties in the sacristy.
| | |
| --- | --- |
| | |
| Sr. Mary Joseph signs the vow book of our community which dates to 1833. | Sr. Mary Joseph with a statue of her patron saint. |
On Sunday, July 15, 2018, Sr. Linaliz Ramirez pronounced her first vows as a religious of the Visitation of Holy Mary during a beautiful Mass attended by her three sons, Leo, Emil, and Paolo with their families. The profession took place during our community Mass offered by our pastor, Msgr. James S. Kee, assisted by Deacon Ernest Johnson. The congregation included members of the parish and some of the ladies attending the retreat being held that weekend.
During the ceremony which followed the homily, the superior, Mother Rose Marie Kinsella, received Sister's vows to live in poverty, chastity, and obedience for three years, and then Sister received the cross of profession, a copy of the Constitutions of the Order, and her new religious name, Mary Joseph. Her family visited with Sister in the parlor after breakfast, and enjoyed a special festive dinner prepared by members of the Filipino community in Mobile, before returning to their homes in Georgia, Tennessee, and Texas. It made for a joyous reunion for Sister Mary Joseph to have her family share in this memorable occasion.