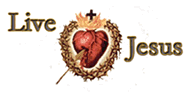 ADVENT TWO
A shoot shall sprout from the stump of Jesse
Stand erect and raise your head; your redemption is close at hand.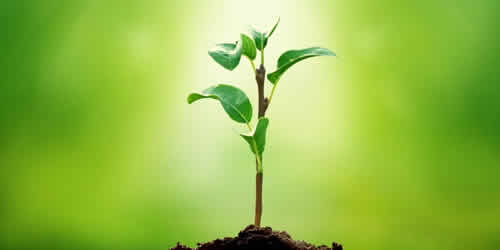 There was a man sent by God to witness to the Light
who came as a witness to testify to the Light
that all might believe through him.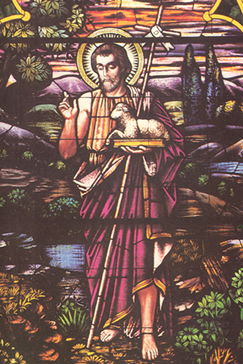 St. John the Baptist
At the beginning of this Advent season, we see the towering figure of St. John the Baptist coming to show us the Lamb of God who takes away the sins of the world.
We needn't spend much time thinking about the sins of the world. They are all too painfully obvious.
But we do need to spend as much time as possible contemplating the Lamb of God who has overcome the world and all it's evils, who takes them all away. He and John both call us to repent and believe in this good news.
Let us respond in faith
O my God, I firmly believe ...
that Thy Divine Son
became man,
died for our sins,
that He rose on the third day,
and will come again
to judge the living and the dead.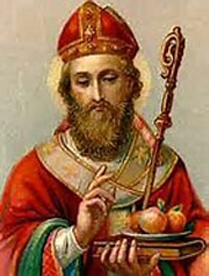 St. Nicholas was a beloved bishop of the fourth century. He was born in Asia Minor and became bishop of Myra, a seaport. He is known for his generous and often anonymous charity, his love for children and defense of the poor and oppressed. When the Turks invaded Asia Minor, the Christians took his relics with them as they fled west to Bari, another seaport along the Mediterranean coast. In time, he became co-patron with St. Andrew of Scotland and Russia.
The many accounts of St. Nicholas' miracles and goodness to those in distress made him a popular patron of sailors who carried his cult to every port they visited. They erected chapels in his honor which often became shrines welcoming many pilgrims. He became loved in virtually every nation, from Greece to Italy to Russia to Germany to the Netherlands to the New World. Wherever there was a seaport, there were devotees of St. Nicholas, always recounting stories of his gift-giving, care of children, and assistance to the poor, making sure that everyone had enough to eat, shelter from the cold, and safety from violence and accidents.
It is easy to imagine how such a cheerful saint, known the world over, would come to be associated with the Christ Child who come to bring us every good gift, who is our food, light and warmth, and protection from every harm, our comfort and our joy.
"Advent means a presence begun,
the presence of God.
To celebrate Advent means to bring to life within ourselves.
the hidden presence of God." Pope-emeritus Benedict XVI
Drop down dew, ye heavens, from above,
and let clouds rain down the Just One.
Let the earth be opened and bud forth a Savior. Isaiah 48:8
This verse expresses the centuries-long yearning for a savior. In Isaiah's time the fulfillment was still hundreds of years away. Today, thousands of years later, we can identify Mary as the earth and the Holy Spirit as the dew received by the earth, which it makes fruitful so that in the fullness of time the savior buds forth.
It was fitting that the soil be prepared by preserving it from any contamination of sin, so that the Divine Seed might be received into a totally pure environment. This was achieved by Mary's Immaculate Conception, a unique privilege granted her in view of her destiny as the Mother of the Son of God.
O Mary, of all women, thou art the chosen one
Whom ancient prophets promised would bear God's only Son.
All Hebrew generations prepared the way to thee
That in your womb the God-Man might come to set us free.
O Mary, you embody all God taught to our race
For you are first and foremost in fullness of His grace.
We praise that wondrous honor that you gave birth to Him.
Who took His manhood from you and saved us from our sin
O Mary, conceived without sin, pray for us who have recourse to thee!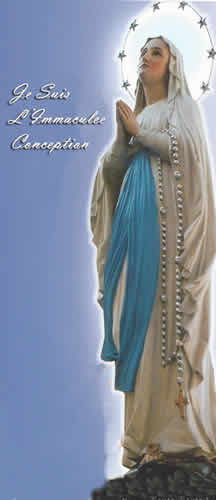 I rejoice heartily in the Lord, in my God is the joy of my soul.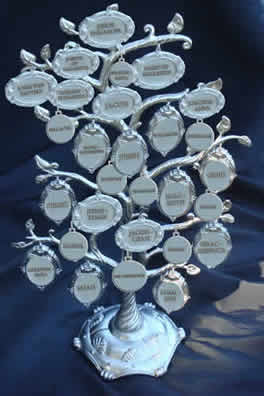 On Jordan's bank, the Baptist's cry
Announces that the Lord is nigh;
Awake, and hearken, for he brings
Glad tidings of the King of kings!

Then cleansed be every breast from sin;
Make straight the way for God within;
Prepare we in our hearts a home
There such a mighty Guest may come.

For Thou art our Salvation, Lord,
Our Refuge, and our great Reward.
Without Thy grace we waste away,
Like flowers that wither and decay.

To heal the sick stretch out Thine hand,
And bid the fallen sinner stand;
Shine forth, and let Thy light restore
Earth's own true lovliness once more.

Stretch forth thine hand, to heal our sore,
And make us rise to fall no more;
Once more upon thy people shine,
And fill the world with love divine.