BEHIND THE WALL,  AN HISTORICAL COMPILATION ABOUT
THE VISITATION SISTERS IN MOBILE IS NOW AVAILABLE.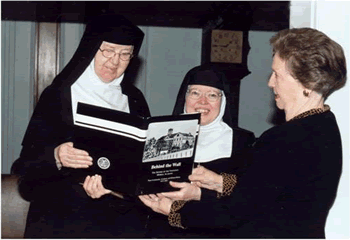 Author Anna Bailey Crow shows a copy of her recently completed work, Behind the Wall, to Mother Jane de Chantal Word and Sister Rose Marie Kinsella.  The 178 page book is a heartwarming historical compilation of the life and work of the Sisters of the Visitation in Mobile.
Favorite stories are the ones that are eagerly passed down, generation after generation, typically recounting tales of courage, sacrifice, and great adventure to minds and hearts likewise eager for the telling.  When those tales are grounded in local history it truly is all for the better.
Mobile author, educator, and past editor of  The Catholic Week, Anna Bailey Crow has compiled, with the help of the Sisters of the Visitation, what certainly is one of the Archdiocese of Mobile's favorite stories.  Behind the Wall is not the heart-pounding, eyes wide open, unexpected twist at the end, "Fast-food" kind of story one is likely to find at the local cineplex.  Rather it is a heartwarming, historical collection about a very special religious community of women who prayerfully "ad"ventured to Mobile in December of 1832 to become a significant part of our collective heart.
A limited number of these hardbound books are available now at The Visitation Gift Shop for $39.95.  The shop is located at 2300 Spring Hill Avenue in Mobile and is open Monday through Saturday, 10 a.m. until 5 p.m.
Cover Story The Catholic Week